www.playingcardsales.com
The online playing cards store from R. Somerville (Playing Cards)
Postage and packing
Postage and packing charges are based on weight, postal zone and your choice of postal service. The overall weight of each order is calculated automatically by the website. At any time, you can click the checkout button (at the bottom of the screen when in catalogue pages) and give details required for the postage and packing charge to be calculated. You can then return to the catalogue to choose more cards. (Please note that the running total of your order given at the foot of each page in the catalogue pages does NOT include the postage and packing charge)
When will my parcel arrive?
Parcels are sent using the regular mail service from our despatch office near Toulouse in France by economy or priority mail according to your preference.
In our experience, economy mail within Europe usually takes 7-14 working days, and to the United States up to nine weeks (though less than six is usually the case). Priority mail within Europe normally takes 3-6 working days and to the USA 6-12 working days. La Poste (the French Postal Service) suggests priority mail should take 7-9 working days to Australia and economy mail 12-14 working days though in our experience up to six weeks should be allowed before you become concerned. For customers in other parts of the world, the time frames given above and details given in the table below should give a reasonable indication of when you might expect to receive your cards, or you can contact us for an estimate of delivery time if you prefer.
Please note that we offer these time frames as a rough guide only and you may be disappointed if you rely on them. If you require your parcel by a certain date, please tell us and we will check that the postage rate you have selected is appropriate. Please be warned that economy mail to countries outside the European Union can be VERY slow and should only be used by customers who are in no particular hurry to receive their order.

So that we can offer a more precise indication of delivery times to customers in the future, we would really appreciate a quick e-mail from you to say when your parcel has arrived - we are not always convinced by La Poste's (the French Postal Service) estimates!! To give you a better idea of when you might expect to get your parcel, we have listed here the destination, type of postage, weight of parcel, date of despatch and date of receipt as advised by customers for all recent orders where our customers have told us when their parcels arrived. We are very grateful to those of our customers who take the trouble to let us know so we can publish the information on this page to give all customers an idea of what to expect.
You might well be surprised by the variations - we certainly are! Perhaps not surprisingly, some of the parcels which got the most delayed were around Christmas each year though many do get through even at that time of year in less than the timeframes suggested by the La Poste. At any time of year, there seems to be the risk that occasionally priority mail packages get mis-sorted as economy mail and consequently take longer than they should, though this seems to be pretty rare. Equally, some economy mail parcels seem to arrive very quickly indeed which leads us to believe that if there is space in a priority mail container, it may well get filled up by small economy mail packets.
At the latest update, (25th October, 2006 - we try to update approx every 6 months) priority mail parcels to the UK were taking on average a bit less than 5 days to arrive, and economy rate parcels a little more than 10 days. Priority parcels to the USA seem to be taking, on average, just under 10 days to arrive and economy between 3 weeks and a month. See the graphs below for a detailed picture and the table here for full details and be aware that these are averages and some parcels seem to take a lot longer, often for no apparent good reason. Early 2005 saw our worst ever economy and priority rate parcels to the USA. One unlucky customer in Oregon had to wait 72 days for the arrival of an economy rate parcel, and one in Massachusets 47 days for a priority rate parcel. Happily, delays as bad as these are very rare, but that is not much consolation to you if you are the one who has to wait! 2006 was notable for some very poor economy parcels to the UK.
Please note also that the details given on the table refer to days elapsed after despatch (including non-working days for ease of calculation!) rather than after the date the order was placed. While we do our best to get all parcels out within a few working days of receipt of order, we do from time to time experience rushes of orders which can cause a slight delay. When this happens, we do try to let customers know how soon they can expect their order to be processed. Furthermore, from time to time, the office and despatch department in France may not be staffed while Mr Somerville goes on business trips, visits trade fairs and collectors meetings and even occasionally takes a holiday though we try to arrange for temporary staff to fill in during such absences. During these periods orders may not be despatched within the time frame suggested above. Notice will be given when the office is closed. Please check on the front page of our site (http://www.playingcardsales.co.uk/index.htm) for such notices.
(click on these graphs for enlargement)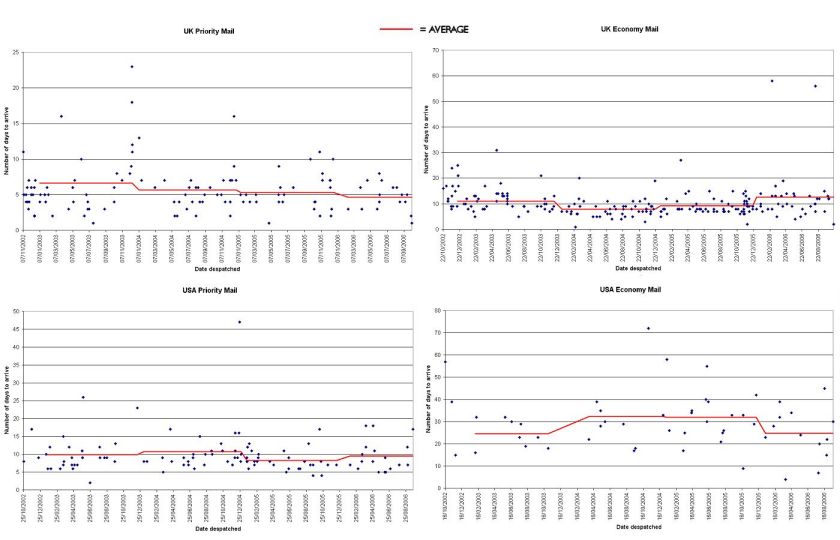 Click here to link to table of all orders for which we have information about arrival times.
Please contact us if you require further information.

Contact Details

Roderick Somerville
Phone:
++ 33 (0)5 61 98 76 61*
* If you are uncertain about international dialling, please see the "Contact us" page in our main catalogue for details. http://www.playingcardsales.co.uk/cards/framepage.asp?pg=contact

Fax:

++ 33 (0)5 61 98 76 10*
Address:
R. Somerville (Playing Cards)
Place de la Mairie
F-31420 ALAN
France
www.playingcardsales.com
The online playing cards store from R. Somerville (Playing Cards)
---
Last Updated: 25th October, 2006