STILL TRADING!

Although we have not added any new stock to our website since 2011, all the items listed and displayed here are still available for purchase. Most of them are offered at 2011 prices! To place an order, please contact us via our contact page with a list of what you would like to purchase. We will then confirm availability and propose various options for payment. If you have specific "wants" for items not shown, please submit a list. You never know – we may still have an example of the very pack you are looking for!
---
| | | |
| --- | --- | --- |
| | GIFT IDEAS FOR CHRISTMAS (or other occasions) | |
| | | |
Piatnik Playing Cards - boxed pairs of packs
Ideal as gifts for card players.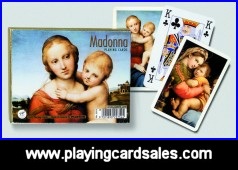 Madonna - by Piatnik. Click on the picture for details.
There are lots more double packs by Piatnik of Vienna to choose from - click here to see them.

We are often asked what are our best selling lines. Well, here are some current best sellers together with some all time favourites which we have found to be especially popular at this time of year.

If you have been looking for a set to play Canasta (12171), we have just the thing.

As stocking fillers, why not try a fortune-telling pack such as Gipsy Fortune Telling Cards (10017) or Mlle Lenormand Cartomancy Deck (10034). The Grand Etteilla pack (11061) is a bilingual (French/English) divination pack.

The French Tarot card game has grown in popularity in recent times perhaps because the rules are more widely available in English than they used to be (see the excellent card games website run by John McLeod at www.pagat.com). A basic pack without rules is Jeu de Tarot (403782) (11064).

Poker and Black Jack are of course also in vogue. Good quality packs at reasonable prices are plentiful but our best sellers come from Sweden (see nos. 13936, 14183 & 14461).

For something saucy, try Poker Pin Up (14009) or The Art of Manara (13886).

Packs designed by well-known artists never miss the mark. Interesting packs include The Art Detail Playing Cards(13848), The Jeu de Marseille (12766) and The Art Pack Playing Cards (13520). Packs which are perhaps more suitable for play include Leonardo de Vinci (13827), Wiinblad (10015), Claude Weisbuch (12765) and Scottish Legends (13176).

Packs with a political theme may be of interest; Bush Cards (14042), Churchill Playing Cards (13846) or Greenpeace Playing Cards (13696). Click here to see our full range of packs on political themes.

We have a wide range of packs featuring animals of all shapes and sizes African Animal Playing Cards (13609), Art of Nature Playing Cards (12792), Cats (14109), Horses Playing Cards (13768) or Scruffy Mutts Playing Cards (14530). Click here to see our full range of packs with animals.

For the art lover pure and simple the ever popular Jeu de Marseille (12766) designed by a group of Surrealist artists or the transformation pack Under the Sea (14360) would surely be appreciated.

With a more nostalgic feel, Ancient Egypt (13769), The Regency Deck (10061), First World War Posters (13169), or Astronomical Cards (13651) could fit the bill.

Several packs featuring James Bond or Harry Potter are available, not forgetting The Simpsons (13393).


This page last updated: 21st August, 2011


We carry a considerable range of regional pattern packs for different games which are popular around Europe and elsewhere. Many regions have particular games which require different numbers of cards, and regional differences are further reflected by the use of different suits and characters on the court (royal) cards.

You should be able to find the sort of pack you are looking for in the catalogue where one of the search categories allows you to look for packs of cards with particular combinations of cards. Look out for indications that the indices are not in English, (for example the French use R, D, V for Roi, Dame and Valet rather than K, Q, J for King, Queen and Jack) and that suits may not be the internationally recognised Spades, Hearts, Clubs and Diamonds.

Standard Regional Pattern packs can be found in the catalogue section called "Regional", and beware if searching by country of publication as there are many publishers who produce packs for regions other than their own!